News
Stay informed about the latest enterprise technology news and product updates.
ClearSky pockets $27M for managed cloud storage service
ClearSky Data, which in August launched its managed service for primary storage, today closed a $27 million Series B funding round to expand sales and marketing teams.

Download this free guide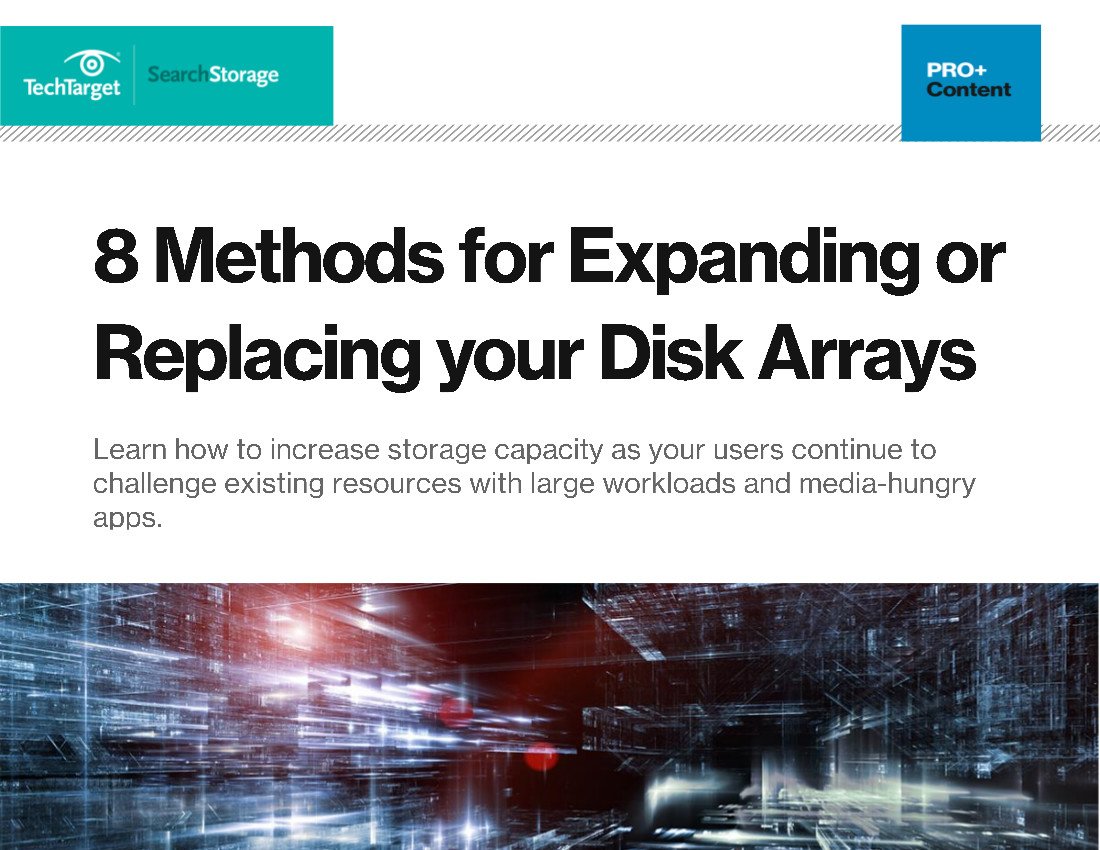 8 Steps to Expanding and Replacing Your Disk Arrays
Regardless of how high performing your storage array or how well you manage your data, every system comes to a breaking point. Whether it's long app loading times, or realizing after a disaster that your data isn't quite as available as you thought, when you reach that point, you'll need to be ready to expand or replace your existing disk array. In this guide, learn 8 things to take into consideration for when that time comes; it could be closer than you think.
By submitting your personal information, you agree that TechTarget and its partners may contact you regarding relevant content, products and special offers.
You also agree that your personal information may be transferred and processed in the United States, and that you have read and agree to the Terms of Use and the Privacy Policy.
Polaris Partners led the round with content delivery network provider Akamai Technologies involved as a strategic investor. Previous investors General Catalyst and Highland Capital Partners also participated. The funding brings Boston-based ClearSky's total to $39 million.
ClearSky's tiered service lets companies run primary workloads on-premise and in ClearSky's point-of-presence (POP) data centers. For data protection, it replicates data to object storage in Amazon Simple Storage Services (S3).
ClearSky founder and CEO Ellen Rubin said ClearSky will build up its 40-person team with most expansion coming in sales/marketing and operations/support. She said the investment from Akamai and the addition of Akamai Labs CTO Andy Champagne as a ClearSky board adviser should help the startup gets its foot in the door with enterprise customers.
"We'll be working with them as we go to market," Rubin said. "We'll engage with their sales teams and marketing teams as we go to enterprise customers. Basically, any enterprise we're speaking with is already an Akamai customer."
Rubin said after two months of having its beta service in the market, ClearSky is trying to convert those customers to paying customers. Part of that process learning what the beta users want to see on ClearSky's roadmap. She said ClearSky will soon add Fibre Channel and NFS support to go with its original iSCSI storage. It is also working on adding POPS in major metro areas for early 2016. ClearSky started with POPs in Boston, Philadelphia and Las Vegas.
"We're using the cloud the way it was meant to be used," she said. "We give you all the benefits of cloud but we incorporate it as a set of managed services."
As for which workloads her customers want to move to the cloud, Rubin said "most have multi-year long plans where they are going into the cloud with production workloads. Now we see mostly test/dev, web apps and DR. IT teams are trying to get their arms around 'How do we make sure we don't give up anything – availability, security and visibility into what's happening?' There's a bunch of things they're not interested in ever moving. There are other things they might move, but not yet. We're living in an evolving hybrid world and I feel it will be that way for a while."