News
Stay informed about the latest enterprise technology news and product updates.
Avere Systems rolls out its own core NAS filer for hybrid cloud
Avere Systems recently announced its latest hardware, the Cloud-Core NAS (C2N) hybrid system that is integrated with object storage and can scale up to five petabytes.

Download this free guide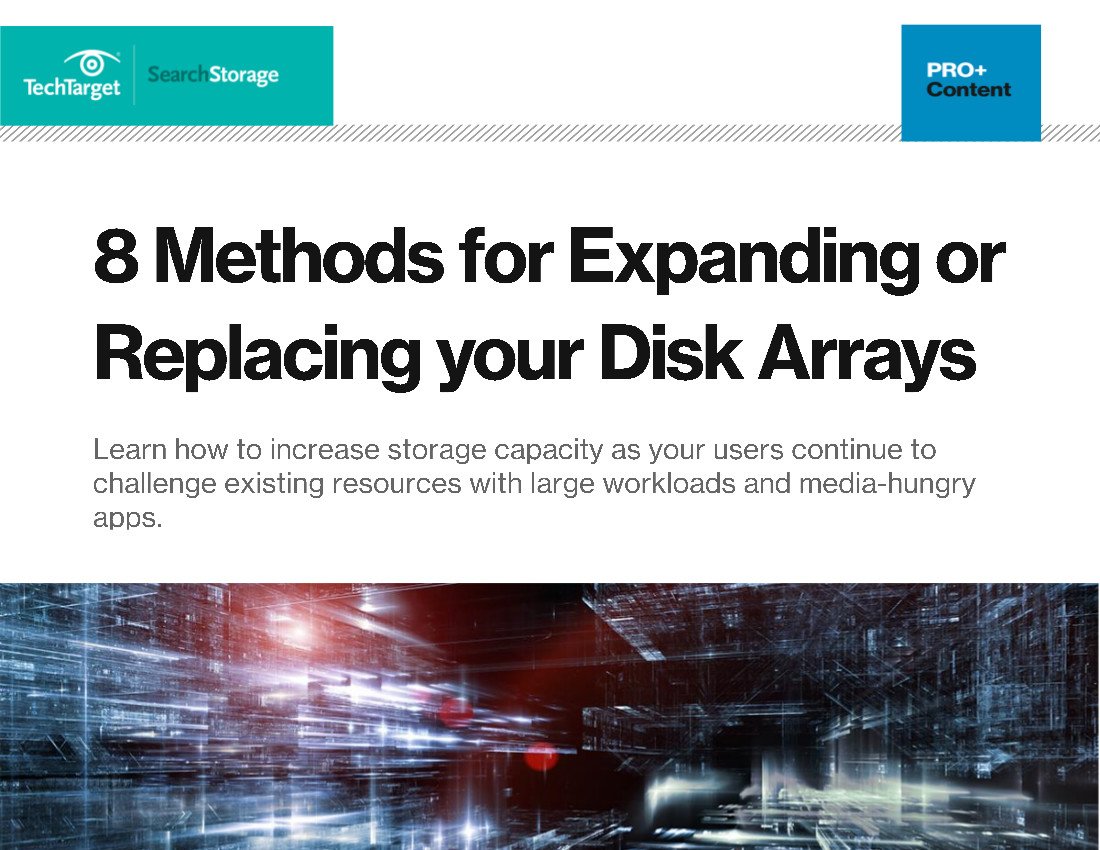 8 Steps to Expanding and Replacing Your Disk Arrays
Regardless of how high performing your storage array or how well you manage your data, every system comes to a breaking point. Whether it's long app loading times, or realizing after a disaster that your data isn't quite as available as you thought, when you reach that point, you'll need to be ready to expand or replace your existing disk array. In this guide, learn 8 things to take into consideration for when that time comes; it could be closer than you think.
By submitting your personal information, you agree that TechTarget and its partners may contact you regarding relevant content, products and special offers.
You also agree that your personal information may be transferred and processed in the United States, and that you have read and agree to the Terms of Use and the Privacy Policy.
The system is comprised of the FXT 5000 nodes for NAS and the CX200 nodes for object storage that is based on OpenStack Swift software. A full system includes a minimum configuration of three 1U CX200 storage nodes for a total of 120 TB of usable capacity when using triple replication for data protection.
The other minimum configuration is six CX200 storage nodes for 480 TB of usable capacity when using erasure coding for data protection. The erasure coding offer N+4 availability, so four servers or four drives can be lost and the system will keep running. It also offers a geo-dispersal capability for disaster recovery using three sites. The CX200 nodes are loaded with 10TB disk drives and capacity can be expanded in 80 TB increments.
"It's a scaleable system that can go from three nodes all the way to 72 1U servers that gets over 5 PB of capacity," said Jeff Tabor, senior director of product management and marketing at Avere Systems. "It provides NAS simplicity but also provides the efficiency of the cloud and it's all integrated.
"The key part of the operating system is the data protection. One is erasure coding and the other is triple replication. Triple replication can be inefficient so the erasure coding gives both resiliency and efficiency," Tabor said.
The FXT compute performance tier for NAS, which supports NFS and SMB, is an all-flash configuration that scales to 480 TB using solid state drives. The system supports snapshots, data migration, mirroring, compression and encryption.
Tabor said Avere Systems is targeting customers who are dealing with large file data. The system integrates private and public object storage with an organization's existing NAS infrastructure so it allows customers to create a hybrid cloud and manage an entire heterogeneous infrastructure as a single, logical pool of storage. The C2N is integrated with Avere Systems' global namespace.
"Historically, you would store that on NAS but NAS has some challenges," he said. "The trend is to move away from NAS and move to the cloud. But it's difficult moving that data to the cloud. What C2N provides is a simple way to get into the cloud. This is a complete edge-to-core configuration supported by Avere. C2N has a built in operating system, so it's our cloud."