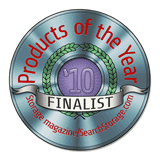 Here are the six finalists in the storage networking equipment category in Storage magazine's and SearchStorage.com's 2010 Products of the Year competition. The category covers switches, host bus adapters (HBAs), network interface cards (NICs), virtualization appliances, security devices and caching appliances. Finalists are listed alphabetically.
Brocade Communications Systems Inc. FC8-64 Blade for the Brocade DCX Backbone Family
Brocade says its FC8-64 blade is the industry's first 64-port, 8 Gbps Fibre Channel (FC) blade for enterprise data centers. It supports up to 512 8 Gbps ports per Brocade DCX-4S Backbone.
Cisco Systems Inc. MDS 9148 Multilayer Fabric Switch
Announced in April 2010, Cisco MDS 9148 is an 8 Gbps Fibre Channel (FC) switch that supports up to 48 ports in a 1U form factor. Cisco is targeting small- and medium-sized enterprises (SMEs) with the MDS 9148.
LSI Corp. SAS6160 switch
The LSI 6 Gbps SAS6160 SAS switch features 16 24 Gbps ports and allows multiple servers to access individual external storage systems and share direct-attached-storage (DAS) resources across multiple devices.
Silver Peak Systems Inc. VX-5000 WAN optimizer
Silver Peak announced its VX line of virtual wide-area network (WAN) optimization appliances in June 2010, and the company says the flagship VX-5000 WAN optimizer supports up to 50 Mbps capacity and up to 64,000 simultaneous flows.
Virtual Instruments SANInsight TAP Patch Panel System
The SANInsight TAP Patch Panel System provides a passive, out-of-band full line-rate copy of all Fibre Channel SAN traffic to monitor and diagnosis components for maintaining fiber-optic networks.
Voltaire Inc. Storage Accelerator software
Typically deployed on standard Linux servers as a tier 1 storage cache in front of DAS, a Fibre Channel SAN system or to provide FC I/O virtualization, Voltaire claims its Voltaire Storage Accelerator can support up to 1 million IOPS and 5 Gbps throughput per storage target.

Check out the complete listing of Storage magazine's and SearchStorage.com's Enterprise Data Storage 2010 Products of the Year finalists.
This was first published in January 2011