When to Consider an All-Flash Array
New flash-based storage options are motivating IT professionals to reconsider the mix of storage media in their data centers. Some are even starting to question how much longer spinning hard drives will play a role in their infrastructure. It may be more pragmatic, however, to consider the use cases and applications that would compel you to deploy all-flash arrays versus alternative solutions.
Hybrid Flash Storage Arrays
For a majority of application workloads, a hybrid approach combining flash storage with traditional disk systems delivers the most cost-effective use of flash technology. With a hybrid approach, the addition of just 1% to 2% of flash-based capacity can improve average response times by as much as 90% while also delivering huge savings in power, cooling and rack space. Because of this, hybrid arrays are widely used to accelerate the performance of a diverse set of workloads, including file services, technical applications and general-purpose virtualized workloads.
However, some applications require a level of performance that is available only from an all-flash storage system.
All-Flash Storage Arrays
The major benefit of an all-flash array is the ability to deliver sustained levels of extreme performance at a lower price point than that of a storage system that employs spinning disk drives. For the most part, this means dramatic improvements in response-time performance (latency), or the time it takes to respond to each and every transaction processed in a database-driven application. For many applications, it is simply unacceptable to have any perceptible variance in transaction time that could impact the customer experience. In the financial industry, for example, stringent response-time requirements may be the subject of government regulation.
Another use case for an all-flash array is when you need extreme data throughput (as measured in IOPS) but don't have a corresponding need for massive capacity to permanently house all of the incoming data. An all-flash array is the right approach in this type of environment.
Flash Storage For Dummies, NetApp Special Edition: Discover how to optimize data performance and reduce the footprint of storage infrastructure in the data center.
NetApp EF540 All-Flash Array
When it comes to delivering performance, the NetApp® EF540 all-flash array draws on a proven heritage of support for the most demanding high-performance environments. It delivers more than 300,000 IOPS of predictable, repeatable and sustainable performance with demonstrated submillisecond latency. That's equivalent to the transactional performance of more than 1,000 traditional 15K hard disk drives, enabling you to meet the same performance requirement with 95% less space, power and cooling.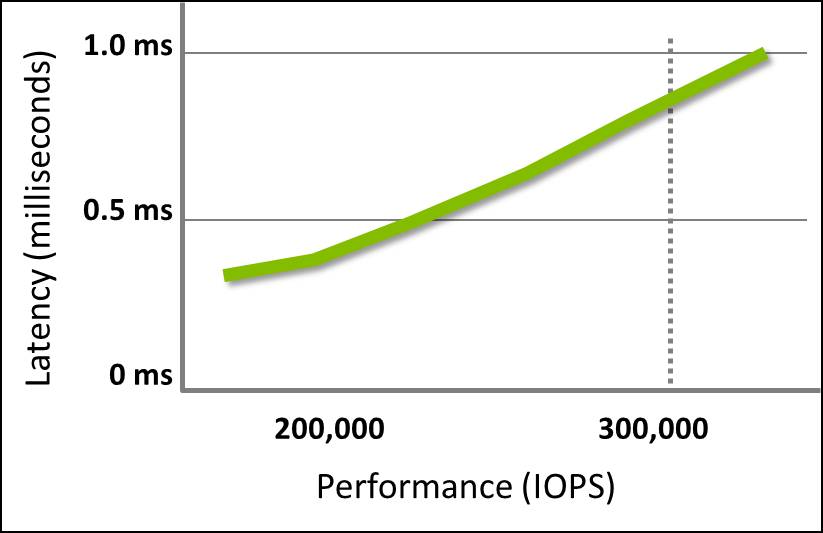 Sustained submillisecond latency at over 300K IOPS
The EF540 combines field-proven technology with enterprise features that protect valuable data and provide uninterrupted availability. The array is architected to deliver enterprise levels of availability with:
Dual-active controllers, fully redundant I/O paths and automated failover
Battery-backed cache memory that is destaged to flash upon power loss
Extensive monitoring of diagnostic data that provides comprehensive fault isolation
Proactive repair to help return a system to optimal performance in minimum time
Enterprise-class solid-state drives that incorporate the latest features for flash reliability and life
Wear-life tracking to alert you when you need to replace SSDs
NetApp Flash Solutions
NetApp offers a broad range of flash-optimized storage solutions designed to increase application performance while controlling costs and simplifying data management. NetApp solutions include hybrid flash arrays, server-side flash and all-flash arrays. Our flash-optimized solutions will enable you to meet service levels and achieve greater storage efficiencies by delivering the right data at the right time and at the right cost.
For more information on NetApp flash solutions, visit our Tech OnTap® community for monthly updates on best practices, technical case studies, and in-depth interviews with engineering experts.
---
No portions of this document may be reproduced without prior written consent of NetApp, Inc. Specifications are subject to change without notice. NetApp, the NetApp logo and Go further, faster, are trademarks or registered trademarks of NetApp, Inc. in the United States and/or other countries. Click here for a full listing of NetApp trademarks. All other brands or products are trademarks or registered trademarks of their respective holders and should be treated as such.
Show more