The Benefits of Caching Software for Server-Side Flash Storage
Flash is emerging as the new IOPS tier for servers due to its superior latency, I/O throughput and efficiency benefits when compared with high-performance disks. For example, server-side flash can take applications such as online transaction processing to new levels of performance, with response time improvements of up to 90% and throughput improvements of up to 80%.

Free Download
SearchStorage E-Guide: Purchasing PCIe – New Developments and Key Differentiators
View Now
When deployed in combination with a hybrid storage array that offers Flash Cache™ or Flash Pool™ intelligent caching, the technology provides additional benefits, such as improvements of 50% or more in disk I/O and CPU utilization on the back-end array. Such performance gains can have a significant impact for organizations seeking to increase the speed and agility of their business-critical applications.
Caching Software for Server-Side Flash
Flash Accel™ server cache is software from NetApp that extends the caching and storage management capabilities of the Data ONTAP® operating system to servers running a variety of off-the-shelf, enterprise-class flash devices. The software manages a server cache and accelerates access to data that is stored and managed by Data ONTAP on the back-end storage system. Flash Accel consists of three components, each of which is available at no charge. They are:
NetApp Flash Accel Management Console (FMC): This is used for installation, provisioning and assigning cache to virtual machines. Configuration and management are handled through a virtual appliance, which runs on vSphere®. The console is also available as a plug-in to the NetApp® Virtual Storage Controller, which runs in VMware® vCenter™.
Flash Accel Host Agent (installed on the ESX® host): The host agent establishes control over locally attached devices (such as solid-state drives) and storage array paths according to the configuration defined using the FMC. The host agent is installed on an ESX host. It creates logical devices and presents them to the ESX storage stack as SCSI devices. Logical devices created on multiple ESX hosts with the same World Wide Name (WWN) allow ESX to treat each device as a shared device so that VMs using these devices can participate in VMware vMotion® and high-availability operations.
Flash Accel Agent in Windows VM: This is a user-level agent implemented for Windows Server® guest VMs only. This agent is required for enabling and disabling the cache on a VM, adding support for managing the cache through PowerShell™ cmdlets, communicating performance metrics to the FMC, and integration with SnapDrive® and SnapManager® data protection software.
Flash Accel Architecture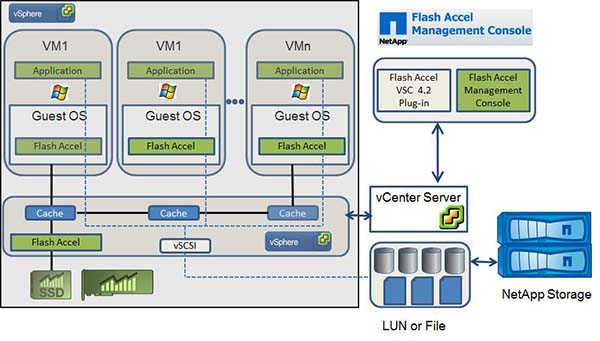 Server-Side Flash and Cache Coherency
One of the most important aspects of server-side cache is the ability to retain a coherent cache with the source data maintained on the back-end storage array. When data stored in the back-end array is modified outside the scope of the cache, the cache data and the array data can get out of sync. This may happen through administration errors or unplanned server actions. The result is incorrect data being returned to the application from the cache, which can cause data corruption in the server.
Other server cache designs handle cache coherency by simply flushing the entire cache whenever an imbalance occurs. However, this approach can create performance issues. Whenever the entire cache is flushed, the subsequent period of cache rewarming severely affects I/O performance as the cache is repopulated.
With Flash Accel, NetApp provides a better solution for cache coherency. Flash Accel does not flush the entire cache but rather is able to identify and evict only inconsistent cached data blocks. This preserves performance while protecting against data corruption at the server level.
NetApp Flash Solutions
NetApp offers a broad range of flash-optimized storage solutions, including hybrid flash arrays, all-flash arrays and server-side flash, to increase application performance while controlling costs and simplifying data management. Flash-optimized solutions enable our customers to meet service levels and achieve greater storage efficiencies by delivering the right data at the right time and at the right cost.
For more detailed information on NetApp flash solutions, visit our community site.

Free Download
Flash Storage For Dummies, NetApp Special Edition: Optimize performance and reduce the footprint of storage infrastructure in the data center.
Learn More
© 2013 NetApp, Inc. All rights reserved. No portions of this document may be reproduced without prior written consent of NetApp, Inc. Specifications are subject to change without notice. NetApp, the NetApp logo, Go further, faster, and Data ONTAP are trademarks or registered trademarks of NetApp, Inc. in the United States and/or other countries. Microsoft is a registered trademark of Microsoft Corporation. Oracle is a registered trademark of Oracle Corporation. SAP is a registered trademark of SAP AG. All other brands or products are trademarks or registered trademarks of their respective holders and should be treated as such.