Put Your Snapshot Copies to Work with SnapVault Backup Software
Every day, millions of backup jobs are kicked off and petabytes of data are copied to disk and tape—just in case some small portion of the data is needed in the future. For most companies, the backup infrastructure is an expensive insurance policy, one that every company hopes it will never need to cash in.
However, wouldn't it be great if you could put your backup data to work and get more value from your backup infrastructure than simply supporting occasional data recoveries? Here's some good news: You can, using Snapshot™ copies and replication-based backups.
Unlike traditional backups, Snapshot-based backups can be used for purposes beyond basic data protection, making them more useful than "just-in-case" insurance against data loss.
Benefits of Snapshot-Based Backups
Here are some of the benefits of a backup system based on advanced Snapshot technology:
Faster backups: Backup times can be reduced from hours or days to minutes.
Faster recoveries: Restores are fast and simple because each incremental backup is represented by a snapshot copy and restored with a single operation. Each snapshot copy is a point-in-time copy of the entire data set.
Reliable recoveries: Disk-based copies can be protected by RAID, block checksums, and periodic disk scrubs, like all the data on your storage arrays.
Smaller backup footprint: Because only new or changed blocks are transferred, network traffic is minimized and disk capacity is reduced by 50% or more via deduplication.
Self-service restores: Backups are stored in a native format, so users can be enabled to restore their own data without the intervention of a system or storage administrator.
How today's agile data centers can benefit from clustered Data ONTAP.
Getting More from Your Snapshot Backups
Cloning technology is the secret to getting more value from replicated Snapshot copies. The ability to create a writable copy from a source Snapshot copy means you can create extra copies of production volumes, systems and databases for development and testing—all without affecting the source volume. Best of all, cloned copies take up additional space only as new data is written, making them cost-effective even if you are creating hundreds of them.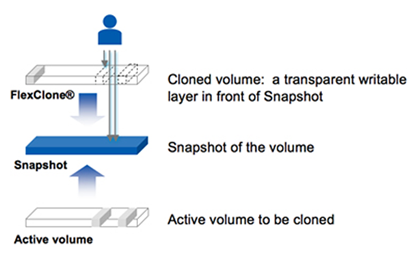 SnapVault Backup Software for NetApp Storage Systems
SnapVault software is a replication-based, disk-to-disk backup solution for data on NetApp storage systems. It creates a full point-in-time backup copy on disk, then transfers and stores only new or changed blocks. This minimizes data transfer over the wire. It also reduces the backup footprint much like purpose-built deduplication appliances, but without the need for a dedicated appliance. Each "block incremental" backup is a full backup copy, with only the new or changed blocks added to the footprint.
SnapVault is fully integrated with the NetApp Data ONTAP® operating system and its native deduplication technology to provide highly efficient, point-in-time backup copies. In addition, it can be used with FlexClone® software to create virtual clones for use cases such as test and development. SnapVault is also fully integrated with NetApp SnapProtect®, as well as industry-leading backup solutions from CommVault, Symantec and Syncsort. That makes it easy to centrally manage, catalog and report on your entire backup and restore operations across applications and workloads.
Clustered Data ONTAP and SnapVault Backup Software
New SnapVault capabilities are available with Data ONTAP 8.2, including support for NetApp clustered, scale-out storage systems and the capability to preserve storage savings when creating backup copies from deduplicated primary storage volumes. This further reduces network impact during replication.
For more information on how to put your backups to work, or to engage with NetApp experts and discuss best-practice recommendations for SnapVault, visit the NetApp community page for Data ONTAP.
---
No portions of this document may be reproduced without prior written consent of NetApp, Inc. Specifications are subject to change without notice. NetApp, the NetApp logo and Go further, faster, are trademarks or registered trademarks of NetApp, Inc. in the United States and/or other countries. Click here for a full listing of NetApp trademarks. All other brands or products are trademarks or registered trademarks of their respective holders and should be treated as such.
Show more