New Benchmark Results for Unified Scale-Out Storage
When it comes to delivering performance for today's highly virtualized enterprises, not all IOPS are created equal. There is more to benchmark results than the "big number" that usually ends up reported in the trade press, namely the maximum operations per second. But a single I/O operations per second (IOPS) number, while useful, doesn't tell the whole story. For applications that need to provide consistently speedy response across a wide range of workloads, you have to consider latency as well.
Fortunately, two recent industry-standard benchmark results for NetApp® storage clusters deliver the information decision-makers require for both maximum operations and latency. The benchmark tests, the SPC-1 for block-based systems and SPECsfs for file-based systems, require that latency numbers be provided across various workloads. As a result, you can see how many operations a system can perform at a specific response time and then compare those results between platforms.
Both of these benchmark tests were performed for NetApp storage clusters running Data ONTAP® 8, a complete unified scale-out solution that provides an agile, always-on storage infrastructure for today's highly virtualized enterprises. And in both cases, the NetApp solutions delivered performance that was among the best for enterprise disk-based solutions. Here are highlights from the benchmark tests and a summary of our findings regarding latency.
SPC-1 Benchmark for Block-Based Systems
After a NetApp storage cluster showed record-setting NFS benchmark results, people were curious about its block I/O performance, so the SPC-1 benchmark for block-based systems was a natural follow-up.
The SPC-1 benchmark is a tough, audited, block-based benchmark (on Fibre Channel) that stress-tests disk subsystems with a lot of writes, overwrites and hotspots, and a mix of random and sequential, write after read, read after write and so on. If an array can perform well in the SPC-1 workload, it will usually perform extremely well under difficult, latency-sensitive, dynamically changing database workloads, especially OLTP.
The results for a six-node FAS6240 storage cluster were 250,039 SPC-1 IOPS with a least response time (LRT) of 0.99 milliseconds. In terms of relative performance, the six-node FAS6240 is in the top 10% of submitted configurations as measured by LRT, and the IOPS measures represent a 267% increase in performance and a 12% reduction in cost relative to the previous FAS3270 SPC-1 publication.
SPECsfs Benchmark for File-Based Systems
The SPECsfs benchmark is designed to evaluate the speed and request-handling capabilities of file servers utilizing the NFSv3 and CIFS protocols and was the benchmark used for the aforementioned record-setting results.
In this testing, a cluster of FAS6240 nodes demonstrated linear scaling as nodes were added, with a maximum performance of over 1.5 million SPECsfs2008_nfs.v3 OPS using 24 nodes. The full results are available from the SPECsfs2008 results Web site.

FREE DOWNLOAD
Scale-out storage is the most powerful way to respond to data growth and data management challenges. Learn more today.
View Now
Do You Prefer Your IOPS Without Extra Latency?
We performed an analysis of SPC-1 results to compare multiple disk-based systems—highly reliable, general-purpose systems that can provide high performance, low latency and high capacity—based on a response time threshold of approximately 3 milliseconds. This was done because, for a great majority of database workloads, very low I/O latencies are vastly preferred to higher latencies. The analysis shows that the NetApp SPC-1 results are among the best forenterprise disk-based systems, given the low latency delivered for the IOPS provided (see accompanying table for details).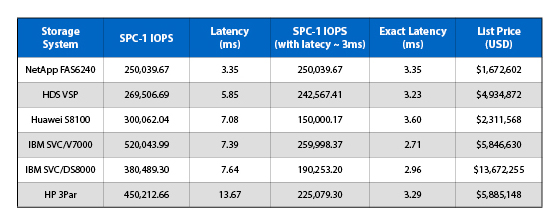 A similar analysis of SPECsfs results showed that unlike scale-out solutions optimized specifically for sequential throughput, a NetApp storage cluster running the NFS protocol provides a predictable latency behavior that makes it suitable for a wide range of workloads, including databases and highly virtualized environments.
NetApp's Unified (NAS and SAN) Scale-Out Storage
NetApp is the only storage vendor that supports both block and file storage clusters with a single operating system–clusters that have been validated with industry-standard benchmarks for performance–and a complete suite of advanced data management software.
Learn more about Data ONTAP 8 and do your own analysis. We think you'll agree that a new bar has been set for unified scale-out storage.
© 2013 NetApp, Inc. All rights reserved. No portions of this document may be reproduced without prior written consent of NetApp, Inc. Specifications are subject to change without notice. NetApp, the NetApp logo, Go further, faster, and Data ONTAP are trademarks or registered trademarks of NetApp, Inc. in the United States and/or other countries. Microsoft is a registered trademark of Microsoft Corporation. Oracle is a registered trademark of Oracle Corporation. SAP is a registered trademark of SAP AG. All other brands or products are trademarks or registered trademarks of their respective holders and should be treated as such.