NetApp Data ONTAP Is Now the Industry's No. 1 Storage OS
What do network storage systems and smartphones have in common? In both cases, the software defines the user experience and separates the leaders from the rest of the pack. When every vendor has access to the same state-of-the art hardware components, the opportunity to innovate and add value is determined by the software layer, of which the operating system (OS) is the key component.
The importance of operating systems explains the intense interest in market share battles between iOS and Android for smartphones, Windows® and Mac® OS for personal computers, and Linux® and UNIX® for enterprise servers.
Operating systems are also critically important for storage systems — particularly as organizations increasingly shift applications from dedicated infrastructures to virtualized and private cloud environments. To achieve the kind of agility demanded by management today, IT organizations need to standardize on a storage OS that drives efficiencies, reduces complexity, and enables business operations to run nonstop.
This evolution in customer requirements has helped drive a significant shift in market share for storage OSs between the industry's top two players, NetApp and EMC 1. The chart below shows that NetApp® Data ONTAP® has become the industry's leading storage OS, with a widening gap versus competing offerings from EMC. The chart also reflects two very different approaches for delivering innovation and customer value.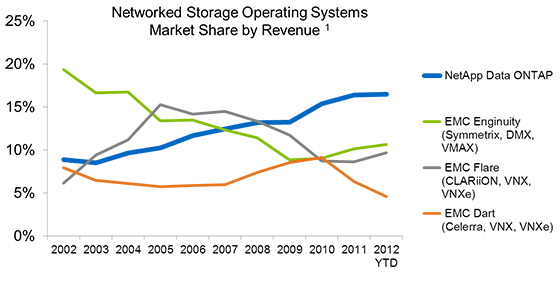 Unified Storage Architecture Versus Multiple Platforms
For NetApp, the path to success has been built on a unified storage architecture that addresses the majority of data center workloads, provides a consistent set of features and management tools, and scales from small, standalone systems to the multi-petabyte storage clusters required by large enterprises and cloud environments. The same OS can be used to virtualize existing storage arrays from other vendors, and it can even be deployed on top of commodity servers as a virtual storage array.
Address the challenges of storage scale through the "Big Data ABCs" – analytics, bandwidth and content. Learn more today.
By contrast, the chart reflects EMC's reliance upon purpose-built storage systems, each with an OS dedicated to a specific workload or market segment. While this approach has enabled EMC to provide coverage for a wide range of data center workloads, it has resulted in significant differences between OS platforms, creating features gaps, multiple and incompatible versions of core features, and the need for disruptive "forklift upgrades" for customers who need to transition between platforms. This approach also leads to increased costs, as multiple platforms need to be purchased and managed.
A unified storage architecture like the one offered by Data ONTAP can help control costs and drive efficiency at the infrastructure layer, important factors given the rise of virtualization and cloud computing. As systems are scaled and automated, the extra cost of managing multiple, specialized platforms begins to act as a tax on those seeking to reduce the average cost of service. For these reasons, a unified architecture is often cited as one of several key purchasing criteria when architecting a storage OS for private cloud environments.
Data as Infrastructure
The most recent version of the Data ONTAP operating system introduces the concept of an agile data infrastructure that automatically adapts to changing workloads, provides always-on access to data, and removes barriers to scale. As always, these innovations are delivered as part of a single, scalable OS platform that protects customer investments and lowers total cost of ownership.
For more information about the industry's number 1 storage OS, visit the NetApp Tech ONTAP community for monthly updates on best practices, technical case studies, and in-depth interviews with engineering experts.
1 Source: NetApp internal estimates in terms of revenue and storage capacity in the worldwide open-networked storage market as of September 2012: VNX, VNXe, and Celerra NS can run any Flare or Dart operating system. The contribution of these products to the OS share has been estimated based on the proportion of NAS and SAN installations in these products (NAS—Dart; SAN—Flare).
---
No portions of this document may be reproduced without prior written consent of NetApp, Inc. Specifications are subject to change without notice. NetApp, the NetApp logo and Go further, faster, are trademarks or registered trademarks of NetApp, Inc. in the United States and/or other countries. Click here for a full listing of NetApp trademarks. All other brands or products are trademarks or registered trademarks of their respective holders and should be treated as such.
Show more