NetApp Brings Private Storage to Amazon Web Services
Experts have long predicted that businesses will move more of their IT to the cloud, yet many organizations have been cautious due to perceptions about performance, availability, and security.
Now, for the first time, storage professionals have the option to combine the strengths of enterprise storage and data management with the elasticity and cost efficiencies of Amazon Web Services (AWS). The combination of NetApp® Private Storage and AWS allows IT organizations to leverage the performance, agility, and control of private storage with the on-demand resources of the Amazon Elastic Compute Cloud (Amazon EC2) and Amazon Simple Storage Service (Amazon S3).
The Benefits of NetApp Private Storage for AWS
NetApp Private Storage for AWS offers a combination of private and public data storage by enabling an agile data infrastructure that spans internal systems and the cloud. For example, a high-performance enterprise application can replicate data from an on-premises NetApp storage environment to private storage in an AWS Direct Connect facility to leverage on-demand cloud services. Big data analytics can be delivered at a lower cost by renting Amazon's vast CPU resources while storing petabyte-size datasets on a scalable NetApp storage cluster. In both cases, users can easily move data between primary storage systems located on the premises and secondary systems in a collocated facility that can provide direct connections to AWS cloud services.
Enhanced Data Storage Protection at Lower Cost
Facing year-on-year data growth rates of 50% and higher, IT organizations must balance the need to protect data with the realities of limited budgets. Gartner recommends using RAID, snapshots, deduplication, and replication widely, plus cloud-based storage and tape where necessary to protect data.1
By connecting a NetApp storage infrastructure with AWS cloud services, organizations can combine cloud efficiencies with best practices for enterprise data protection, such as RAID-DP® technology, Snapshot™ copies, deduplication, and replication. Tiered backup and recovery can be implemented using cost-effective Amazon S3 disk-based storage in place of tape, and disaster recovery can be redesigned to leverage Amazon EC2 on-demand compute resources in place of dedicated servers.
Advantages of Combining Public and Private Storage in the Enterprise
The combination of enterprise storage and cloud services enables breakthrough levels of IT agility. New applications can be developed with Amazon EC2 to accelerate time to market and can be easily moved back to a private stack for maximum performance and control. Workloads can be temporarily moved to private storage systems connected to EC2 to maintain operations, and then they can be returned to the data center as part of a migration or consolidation project. Software as a service can be deployed internally or externally, via the cloud, and then redeployed as needed based on considerations such as performance, scalability, and capex versus opex cost accounting.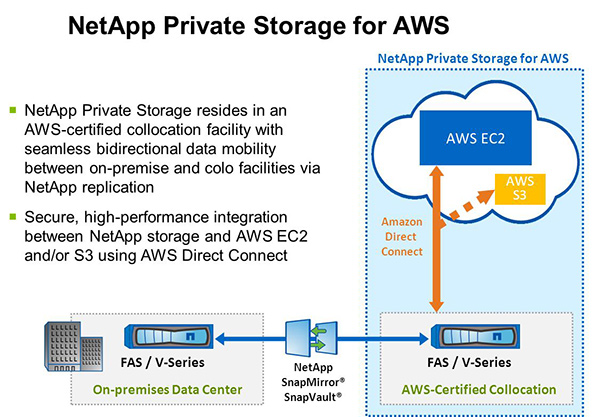 NetApp Private Storage for AWS is available through a select group of resellers that can help you leverage the cloud to increase agility and reduce costs. For more information, visit the NetApp Solution Connection.

FREE DOWNLOAD
Private cloud storage drives many benefits for Windows infrastructures: increased resource utilization, automated provisioning and cost savings. Learn more.
View Now
1 Gartner Technical Professional Advice: "Architecting Storage for Data Protection and Recovery," August 23, 2012 (report G00233280)
© 2013 NetApp, Inc. All rights reserved. No portions of this document may be reproduced without prior written consent of NetApp, Inc. Specifications are subject to change without notice. NetApp, the NetApp logo, Go further, faster, and Data ONTAP are trademarks or registered trademarks of NetApp, Inc. in the United States and/or other countries. Microsoft is a registered trademark of Microsoft Corporation. Oracle is a registered trademark of Oracle Corporation. SAP is a registered trademark of SAP AG. All other brands or products are trademarks or registered trademarks of their respective holders and should be treated as such.