How a Global Telecom Built a Flexible Cloud With NetApp Storage
Orange Business Services, the business services arm of global telecommunications leader Orange, provides communications services to companies in France and to multinational companies around the world. We serve more than 2 million businesses, many of which were interested in moving some of their applications out of internal data centers and into the cloud. As the industry transition to cloud computing and IT as a Service began to move from concept to reality, we were faced with the task of reinventing our company as a cloud services provider.
Our Storage Challenge
Fast time to market was important because our existing customers were eager for IaaS, and we wanted to be the company to serve them. To meet our aggressive launch schedule, we initially used the same legacy Fibre Channel storage area network (SAN) platform that we already used for our internal needs. However, the SAN platform greatly hampered our flexibility.
We gained the flexibility that differentiates our cloud service by replacing our original cloud storage with the NetApp Unified Storage Architecture. Multiprotocol support for SAN, NFS and CIFS enables us to use the same storage architecture for primary and backup storage and for both physical and virtual servers. This relieves our IT team from having to learn and manage multiple storage environments.
By switching our core design from Fibre Channel to NFS, we greatly simplified the storage provisioning and management for our cloud services. For example, we can now create data stores of up to 100 terabytes without the performance degradation that results from aggregating LUNs. The time it takes to expand or shrink a volume decreased from several hours to a few seconds.
The following storage technologies play a critical role in the customer experience as well as in the cost efficiency of our Flexible Computing platform: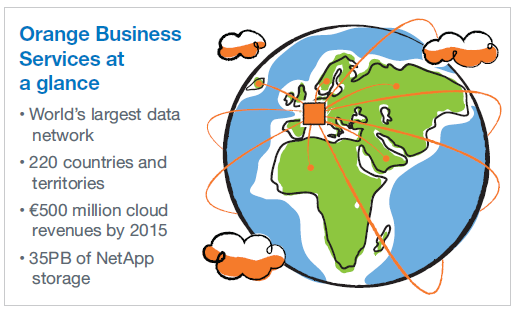 Secure Multi-tenancy
Our cloud customers want assurance that their data will remain private. We designed the infrastructure to provide enterprise-level security, logically partitioning the infrastructure for each customer and giving each customer a dedicated virtual firewall and dedicated virtual LANs.
Tiered Service-Level Agreements
We're able to offer tiered service levels for storage performance—Gold and Silver—using the same NetApp storage infrastructure. The technology behind tiered service levels is NetApp Flash Cache™, which accelerates data access by caching recently read user data and storage system metadata.
Orange Business Systems Technical Case Study
Storage Efficiency Features
Three NetApp technologies—deduplication, thin provisioning and Snapshot™ — provide 50% more storage capacity than our previous storage infrastructure for the same cost.
We reduced total storage capacity requirements by 30%—up to 80% in a volume—by using deduplication to eliminate redundant blocks of data within the same volume. We reduced capacity requirements even further by using Snapshot in our Chevilly-Larue data center to make space-efficient point-in-time copies. With our previous storage infrastructure, a snapshot copy took as much space as the original. In contrast, with Snapshot, the original and copies combined take only 20% to 30% more space than the original alone.
We also reduced costs by using thin provisioning, which presents more logical storage to customers than we actually have in our physical storage pool. For some customers, thin provisioning has decreased committed storage by a factor of six!
Business Continuity and Disaster Recovery
Our standard backup policy is to take daily Snapshot copies. With NetApp SnapManager® for Virtual Infrastructure, backups run on dedicated virtual storage servers, enabling our customers to use their production servers to run applications. In the future, we plan to add a disaster recovery option for our Flexible Computing Premium service using NetApp SnapMirror® replication software to copy virtual machine images to a remote backup facility.
Simplified Management
We didn't need to hire a large team of storage administrators for the Flexible Computing cloud service because we've automated most of the provisioning process. When we deployed the new storage infrastructure, we used the integrated OnCommand™ management software to configure default policies, such as backup and provisioning.
Storage infrastructure issues are identified and resolved before they affect our customers using a NetApp service called My AutoSupport™. Our cloud administrators periodically visit a support website that identifies potential issues such as out-of-date firmware or software and provides step-by-step instructions to avoid disruptions.
A True Partnership
Our relationship with NetApp involves much more than the technology described above. By working in close collaboration to help us reinvent our business for the cloud era, NetApp has become a true partner.
Yann Degardin, Technical Project Lead, Orange Business Services
Yann has been a member of the Orange Business Services IT team since 2006. As technical lead for the Orange Business Services Flexible Computing services, he spearheaded the storage infrastructure design, product launch and lifecycle management program.
---
No portions of this document may be reproduced without prior written consent of NetApp, Inc. Specifications are subject to change without notice. NetApp, the NetApp logo and Go further, faster, are trademarks or registered trademarks of NetApp, Inc. in the United States and/or other countries. Click here for a full listing of NetApp trademarks. All other brands or products are trademarks or registered trademarks of their respective holders and should be treated as such.
Show more