Tips for Modernizing Your Infrastructure
How Do You Measure and Report Storage Efficiency?
Storage professionals have responded to unchecked data growth by deploying a number of new technologies, including data deduplication, data compression and thin provisioning, among others. These technologies provide real capacity savings when used individually, and when used together, the savings can be further compounded. Yet, as the spending on storage as a percentage of overall IT continues to increase, there is both a need and an opportunity to find additional savings.

FREE TRIAL
Test drive NetApp's and VMware's virtualization and data protection software.
Download
This has made it all the more important for IT teams to report on their ability to optimize the capacity and utilization of their storage systems. In other words, which technologies are in use and where, how much capacity are you really saving, and how much could you save in "what-if" scenarios?
Demand Access to the Data
There are many ways to calculate storage efficiency, and this has led to some creative marketing claims. However, such claims are of questionable value if you don't have the data to compare them against your own results. Here are some questions to ask your storage supplier when the discussion turns to storage efficiency.
Do you provide the data I need to do my own calculations?
Is the data available at a variety of levels, including LUN, volume, aggregate, individual systems, system groups and across my entire fleet of systems?
Can I view the information via the storage management software?
Do you offer the same information via a Web-based tool or mobile app?
Do you offer a guarantee to back up your claims?
Consider Your Stakeholders
When reporting your savings, you need to consider who will consume the information. Storage professionals typically want fast access to information, the ability to create ad hoc reports and enough detail to fine-tune their systems at a granular level. On the other hand, IT managers and non-IT stakeholders are more interested in a dashboard that can be reviewed on a regular basis, provides a summary of the savings, shows trends over time and enables comparisons against best practices. They are also interested in the answers to "what-if" scenarios, such as, "What could we save if we used deduplication, compression and thin provisioning together?"
Example: Six-Month Trend of Efficiency Features in Use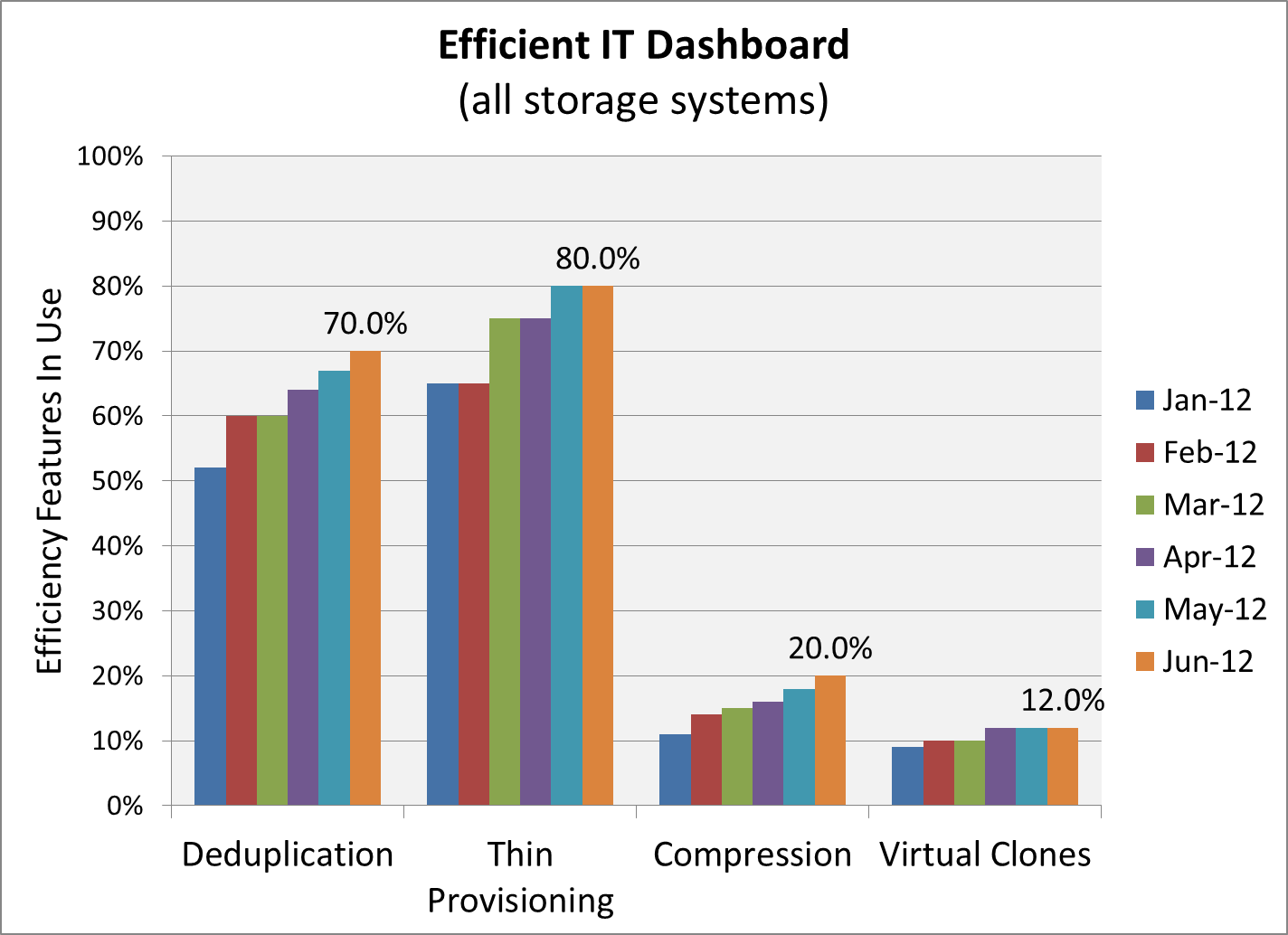 Standardize Your Storage Efficiency Dashboard
Anyone who has created such a report has probably been met with a request to generate it on a regular basis. Ideally, you'll be able to extract the charts and graphs you'll need from your storage management tools. For large enterprises and service providers, this may require tools that are more sophisticated.
Although you may have the time and resources to create your own methodology and reporting tools, this is not the type of project to be taken lightly. It is usually more practical to pick and choose from the data and reports that can be extracted from your systems using vendor-supplied tools. Although some level of customization may be necessary, you should strive to keep it to a minimum.
Learn more about NetApp's approach to storage efficiency and how to optimize the results for your storage environment.

FREE DOWNLOAD
Discover how to increase storage utilization and reduce capacity requirements by 35% or more. Get more from efficiency from your existing storage arrays today.
View Now
© 2013 NetApp, Inc. All rights reserved. No portions of this document may be reproduced without prior written consent of NetApp, Inc. Specifications are subject to change without notice. NetApp, the NetApp logo, Go further, faster, and Data ONTAP are trademarks or registered trademarks of NetApp, Inc. in the United States and/or other countries. Microsoft is a registered trademark of Microsoft Corporation. Oracle is a registered trademark of Oracle Corporation. SAP is a registered trademark of SAP AG. All other brands or products are trademarks or registered trademarks of their respective holders and should be treated as such.