California State Agency Deploys Shared IT Services on 8 PB Private Cloud
The California Natural Resources Agency (CNRA) manages natural, historical and cultural resources for the world's eighth largest economy. However, several years ago its ability to fulfill that mission was in jeopardy. "We were in dire straits," says CNRA CIO Tim Garza. "There was no funding to support information technology efforts that would enable our business areas to function effectively, let alone improve and innovate."
Faced with severe budget constraints, the CIO and his team embarked on a project to reduce costs and improve IT services by transforming their legacy infrastructure into a private cloud. The results? The CNRA team has reduced IT capital costs by 42% and accelerated service delivery by 70% for the 28 organizations that make up the agency, all of which now consume their IT resources through a secure, multi-tenant private cloud.
With 8 petabytes (PB) of data under management, the storage infrastructure was critical to the success of the cloud project. The CNRA team identified four key storage capabilities as crucial: advanced storage efficiency, nondisruptive operations, secure multi-tenancy and simplified data management.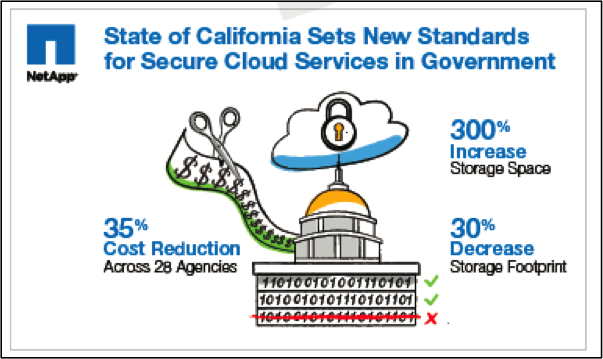 Source: CNRA technical case study.
Infrastructure Consolidation and Storage Efficiency
Because historical climate data is necessary to fulfill CNRA's mission of managing the state's natural resources, the agency never throws away data. This practice, combined with an annual data growth rate of 30% to 40%, resulted in 8PB of data taking up 70% of the total rack space in the CNRA data centers.
CNRA began to consolidate its storage systems by using NetApp® FAS controllers running storage virtualization software. The controllers support all of the protocols in use at CNRA—Fibre Channel, NFS and CIFS—and they front-end the legacy storage systems. Next, the team migrated the agency's data to a scale-out SAN based on the clustered Data ONTAP® operating system, an effort that immediately freed up five racks of precious data center real estate. The CNRA was able to further reduce the rack space required to house its massive data store by implementing NetApp storage efficiency technologies, including deduplication, compression and thin provisioning.
Overall, consolidation and storage efficiency enabled the agency to increase its usable (logical) storage capacity by 300%, while shrinking the physical infrastructure footprint from 22,000 to 6,500 square feet and significantly reducing power and cooling costs.
Nondisruptive Operations
With nearly all of CNRA's applications residing on virtual servers and shared storage resources, 24/7 data availability is critical. "Achieving nondisruptive operations (and greater than 99.99% availability) was a compelling advantage of the NetApp clustered Data ONTAP operating system," says Robert Syphax, chief of storage operations at CNRA. Using clustered Data ONTAP, CNRA does not need to schedule downtime or take virtual machines off-line to add, upgrade or maintain storage arrays. "Instead, we can move data and virtual machines to any other array so that our customers can continue working without interruption," says Syphax.
Secure Multi-Tenancy
Secure multi-tenancy is another capability that was critical for enabling shared IT services at CNRA. The agency uses NetApp software to create storage virtual machines (SVMs) and provide a secure separation of IT resources among departments. Each SVM is managed as a securely isolated storage system within the shared environment, enabling each department to manage its own data store without making it accessible to the others.
Simplified Data Management
To simplify data management, the CNRA storage team uses a single interface to manage storage operations and provision resources for both the NetApp and legacy storage systems. With NetApp OnCommand® System Manager, the IT team delivers new storage capacity within a few hours after receiving a request, compared with three to four weeks when using the CNRA's legacy storage platform. The rapid turnaround provides a powerful incentive for the engineers, scientists and hydrologists at the agency to use the private cloud resources instead of purchasing more storage silos. The IT team plans to further improve provisioning time by enabling self-service access to a combination of compute, network and storage resources in the future.
Download the Full Report
For more information on how CNRA and other organizations use NetApp storage to deliver a new level of IT services, check out the CNRA technical case study.