Building Private Clouds with Windows Server 2012
After a comprehensive beta-test phase and over 500,000 downloads of the release candidate version, the production release of Microsoft® Windows Server® 2012 is now available. As the first version designed for the cloud from the ground up, it is a pivotal development in the history of the Windows Server product line.
Hyper-V Scales Up
Hyper-V™ is the crown jewel of Windows Server 2012. Among other improvements, Hyper-V scales much higher than it did in previous versions, with up to 320 logical processors per server, up to 4 terabytes of memory per server, and up to 64 virtual processors per virtual machine (VM). Because it has a maximum cluster size of 64 physical nodes, you are now able to pack a whole lot of computing power into one place.
This makes Windows Server 2012 an ideal platform for the workloads we see in private cloud implementations, where the ability to scale quickly is very important. The ability of Hyper-V to scale a single VM, a single server, or a whole cluster can be combined with similar capabilities at the network and storage layers to provide the appearance of infinite scalability, which is so important for cloud-style architectures.
The Secret Ingredient: Microsoft System Center
Still, Hyper-V alone is not enough to create your cloud services. The heart and soul of a private cloud is service automation, and to make the move from virtualization to a private cloud you need the following Microsoft System Center 2012 SP1 components: Service Manager, Orchestrator (formerly known as Opalis), Virtual Machine Manager, and Operations Manager.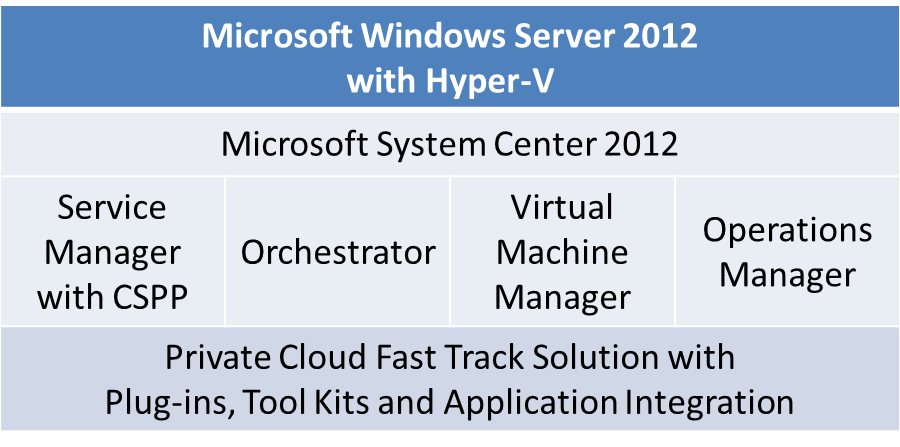 System Center Service Manager with the Cloud Services Process Pack (CSPP) provides the self-service portal infrastructure that is vital to any private cloud. This is tightly integrated with System Center Orchestrator, which is where workflows are defined and executed. Orchestrator simplifies the process of automating systems administration tasks and then executes workflows against System Center Virtual Machine Manager, which owns VM definition, creation, and management. All of this is monitored by System Center Operations Manager.
To achieve the full benefits of a private cloud, you'll also want to work with a partner that can provide application integration, plug-ins, sample workflows, integration packs, and Windows PowerShell™ toolkits, which further improve your productivity through workflow automation.
Putting It All Together
Though all of the above may sound like a lot of technology to install and master, Microsoft has worked closely with its technology partners to develop Private Cloud Fast Track solutions to speed private cloud deployments and reduce project risk by combining the hardware and software into a single, prevalidated package.
One example of a prevalidated configuration composed of compute, network, storage, and infrastructure software components is the FlexPod® platform, a virtualized data center in a rack. The infrastructure components can be scaled up or out to fit your specific needs. FlexPod with Microsoft Private Cloud is Microsoft validated and can be ordered as a complete data center solution.
As the Microsoft Private Cloud Partner of the Year for 2012, NetApp works closely with customers and integrators to reduce provisioning time, increase productivity, and improve agility with private cloud solutions. Learn more about our solutions for Microsoft at the NetApp Community site.

FREE DOWNLOAD
Private cloud storage drives many benefits for Windows infrastructures: increased resource utilization, automated provisioning and cost savings. Learn more.
View Now
© 2013 NetApp, Inc. All rights reserved. No portions of this document may be reproduced without prior written consent of NetApp, Inc. Specifications are subject to change without notice. NetApp, the NetApp logo, Go further, faster, and Data ONTAP are trademarks or registered trademarks of NetApp, Inc. in the United States and/or other countries. Microsoft is a registered trademark of Microsoft Corporation. Oracle is a registered trademark of Oracle Corporation. SAP is a registered trademark of SAP AG. All other brands or products are trademarks or registered trademarks of their respective holders and should be treated as such.