Green is still the color of money in storage
Are you implementing green technologies?
Looking for something else?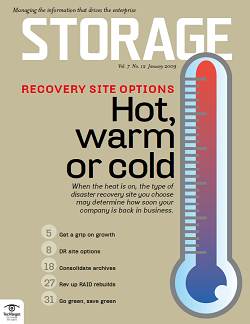 Download
Are you implementing green technologies?
By Christine Cignoli
Vendors are quick to tout their products as environmentally friendly these days. But for respondents to a recent Storage survey, "green" is more likely to mean the color of money. Only one-third of respondents say their company has commitments from management to address green storage issues. When asked which technologies they've implemented, 67% of those surveyed have virtualized servers, 43% have virtualized their storage and 34% use compression -- all considered green technologies. (Note: Respondents could choose more than one option.) However, the top reasons noted for implementing these technologies are saving money on equipment power-consumption costs and saving money on equipment cooling costs. While these are more economic than ecologic reasons, they still yield green results.
"Revolutionary things haven't happened yet or, if they have (in the case of SSDs), they're out of reach of most businesses. The ROI simply isn't adding up yet."-- Survey respondent
BIO: Christine Cignoli is the Associate Editor at Storage magazine.
Dig Deeper on Data center storage
PRO+
Content
Find more PRO+ content and other member only offers, here.